"You Suffer" is a bonus track of the Soulfly album Archangel, released in 2015. This track lasts only eight seconds, but originally it was going to make it last only two seconds, as Max Cavalera wanted to lengthen this track by having his 5-year old grandson Roki to say the offensive quote as given from him before the actual one-second Napalm Death cover.
The original Napalm Death vocalist and songwriter Nicholas Bullen wrote this track.
"Please exit the music business, punk!"

[Scream]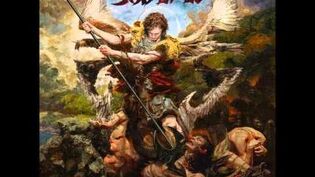 Personnel
Edit
Performers
Band members
Session musician
Roki Cavalera – intro voice
Songwriters
Enginucers
Live-only songs on various albums
Ad blocker interference detected!
Wikia is a free-to-use site that makes money from advertising. We have a modified experience for viewers using ad blockers

Wikia is not accessible if you've made further modifications. Remove the custom ad blocker rule(s) and the page will load as expected.