"Wings" is the final standard track of the Soulfly album Prophecy, released in 2004. "Wings" is unique for Soulfly that it is an R&B song with gentle female vocals by Asha Rabouin. This song tributes Asha to her brother Kamau, who passed away at only 19 years old in 2000. The R&B ballad reminiscent of Dead Can Dance and This Mortal Coil lasts two-and-three-quarter minutes before playing a brass band with drums, French horns, trumpets and tuba on the hidden track "Marš na Drinu" (first word is pronounced 'marsh'), followed by Asha's wails before ending the track and the album. Even though "Marš na Drinu" is a Soulfly hidden track, it wasn't recorded by Soulfly as it is the original version composed by Stanislav Binicki in 1916 to honor the Serbian victory in the Serbian War.
Wings all over us
Watching us from above
Protecting us from this world
Protecting us with your sword

Wings all over us
Calming us when we're sore

Even against all odds
Guiding us when we're lost
Wings all over us
Healing the bleeding pain
Helping us find a way

Making us seize the day
Wings all over us
Never letting go

Everyday I feel your touch
Carry me to my home
I can feel your soul
When I die you come and lift me up
Wings all over us

To meet the king on his throne
Wings all over us
Keep our heads up high
Keeping our spirit alive
Open your arms and rise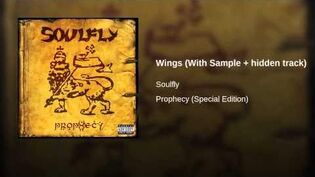 Personnel
Edit
Performers
Band members
Guest/session musicians
Songwriters
Enginucers
Live-only songs on various albums
Ad blocker interference detected!
Wikia is a free-to-use site that makes money from advertising. We have a modified experience for viewers using ad blockers

Wikia is not accessible if you've made further modifications. Remove the custom ad blocker rule(s) and the page will load as expected.