"Touching the Void" is a track of the Soulfly album Conquer, released in 2008. It features slow, sludgy riffs reminiscent of Black Sabbath, especially from that band's song "Into the Void" which inspired the title of this Soulfly song, though the beginning is Type O Negative-like. This song has My Dying Bride and Pink Floyd-like influences as well and features space rock and deep reggae groove in addition to doom metal. The dub outro resembling the music written by David Lynch was recorded by French dub artist Fedayi Pacha. Max Cavalera was appreciated that a dub artist made contribution to Soulfly: "Fedayi made gloomy, truly heavy improvisation is fundamentally different from commercial dub. He recorded the final touch to "Touching the Void" and played on many unusual instruments. Those little things definitely make this song special when listening to it."
I'm touching the void
I seek and destroy
To be reborn
I'm touching the void
The ghost of Troy
Burned and destroyed
I'm touching the void
Bleed and destroy
The sacrifice of war

I'm touching the void
I creep and destroy,
The paradise lost
I'm touching the void
I breed and destroy,
No more idols to burn
I'm touching the void
I scream and destroy,
I follow the storm
I'm touching the void
I've killed them before
I'll kill them again

Void
The return of the wicked
Void
The revenge of the sickest

I'm touching the void
From stone and crust
To ashes and dust
I'm touching the void
The sycophants will fall
In the doom of it all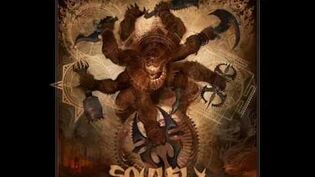 Personnel
Edit
Performers
Band members
Session musicians
Songwriter
Enginucers
Live-only songs on various albums
Ad blocker interference detected!
Wikia is a free-to-use site that makes money from advertising. We have a modified experience for viewers using ad blockers

Wikia is not accessible if you've made further modifications. Remove the custom ad blocker rule(s) and the page will load as expected.