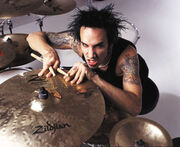 Roy "Rata" Mayorga is one of the founding members of Soulfly as a drummer. He temporarily quitted the band in 1999 after contributing and touring for the debut album, and then he returned for the third album until he quitted for good in September 2003 after touring for it.
In addition to performing regular drums on Soulfly album, Mayorga performed the tambora (Dominican drum) on "Eye for an Eye", percussion on "Soulfly", "No", and "Quilombo (Zumbi Dub Mix)", and backing vocals on "Bumba" and "Umbabarauma" while playing the drums at the same time.
Ad blocker interference detected!
Wikia is a free-to-use site that makes money from advertising. We have a modified experience for viewers using ad blockers

Wikia is not accessible if you've made further modifications. Remove the custom ad blocker rule(s) and the page will load as expected.