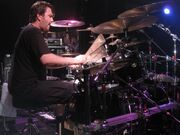 David Kinkade was a drummer and percussionist who appeared in the only Soulfly album, Enslaved. He was active from August 2011 till October 2012, before he left Soulfly after fighting with Max and his son Zyon. He was replaced by Zyon himself as the current drummer.
Ad blocker interference detected!
Wikia is a free-to-use site that makes money from advertising. We have a modified experience for viewers using ad blockers

Wikia is not accessible if you've made further modifications. Remove the custom ad blocker rule(s) and the page will load as expected.