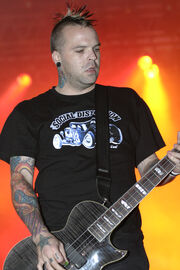 Bobby Burns was the former Soulfly bassist, who appeared in the albums Prophecy, Dark Ages, Conquer, and Omen. He was Burns was the member of the band Primer 55 prior to Soulfly. He was recruited by Max Cavalera in October 2003, who replaced Marcelo Dias who left the band in protest. Burns left the band in July 2010.
Ad blocker interference detected!
Wikia is a free-to-use site that makes money from advertising. We have a modified experience for viewers using ad blockers

Wikia is not accessible if you've made further modifications. Remove the custom ad blocker rule(s) and the page will load as expected.