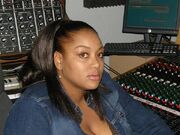 Asha Rabouin is a female vocalist who collaborated on four Soulfly songs. She is from Phoenix, Arizona, where it is the hometown of Soulfly.
The first song she collaborated on was "Flyhigh", the last track of the second album Primitive, singing during pop-sounding choruses in lines like 'Just let my soul fly free'. On the song "Tree of Pain" in the middle of the third album 3, she sings during ballad parts on both ends of the track that were written by herself about dealing with the pain for her brother's death. Her brother, Kamau, died at age 19 on February 28, 2000. She collaborated on two tracks of the fourth album Prophecy, performing backing vocals on "I Believe" and soulish vocals in tribute to her brother's passing on the last and R&B track "Wings".
The other Asha's brother, Babatunde, rapped on "In Memory of...", the track preceding "Flyhigh".
Ad blocker interference detected!
Wikia is a free-to-use site that makes money from advertising. We have a modified experience for viewers using ad blockers

Wikia is not accessible if you've made further modifications. Remove the custom ad blocker rule(s) and the page will load as expected.