"(The) March" is a track of the Soulfly album Dark Ages, released in 2005. This 78-second song features machine gun-sounding beats produced by treshchotka, a Russian idiophone. 20 out of 24 lines in the lyrics end with the word 'us', while all of the remaining four end with 'on'.
Dark ages upon us
Hate surround us
Fear embrace us
Tragedy behind us
Media brainwash us
Spirits guide us
Weakness expose us
Memories behind us

Journey in front of us
Roots under us
Strange attracts us
Inner voice calls us
Envy destroy us
Music lift us
Scars remind us
Spark ignite us

Everything will pass on
We must go on
Everything will pass on
We must go on
It's up to us...
It's up to us...
It's up to us...
It's up to us...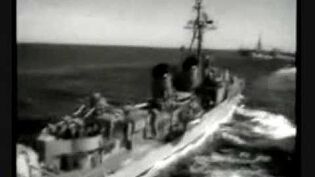 Personnel
Edit
Performers
Band members
Session musician
Songwriter
Enginucers
Live-only songs on various albums
Ad blocker interference detected!
Wikia is a free-to-use site that makes money from advertising. We have a modified experience for viewers using ad blockers

Wikia is not accessible if you've made further modifications. Remove the custom ad blocker rule(s) and the page will load as expected.